Nootka Island - Day 8
Saturday August 9, 2002
In the morning, Mark and I waded up the tidal lagoon. Mark had gone a long way up the lagoon the previous day, in an unsuccessful search for fresh water (note to other hikers – don't bother looking for fresh water upstream of the tidal lagoon). There was so much to see that he wanted to make the trip again. This warm seawater lagoon really was lovely, and full of aquatic life.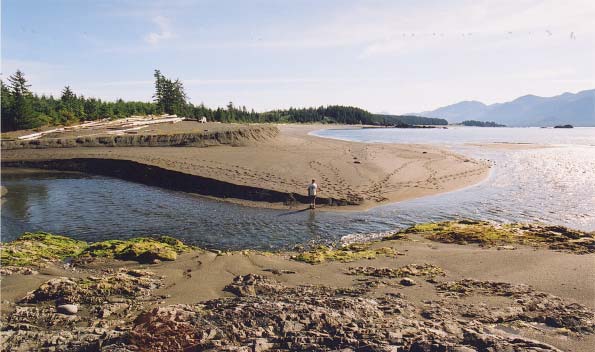 Dylan and I also searched for my Lost Knife. I'd used it at lunch the previous day, and put it in the pocket of my shorts. When we moved our gear to the campsite, Dylan had very helpfully carried things across the tidal lagoon, including my shorts. Unfortunately, my knife fell out of the pocket somewhere along the way – we never did figure out where.
The residents of Laguiole, France maintain that Napoleon gave them the exclusive right to make this knife because of their bravery in battle, and have made them since 1829. The shape and decoration are traditional, and knives like this were sometimes carried by travellers. By 1900 it had become a traditional engagement gift, and would be engraved with the name of the intended. It was also used socially: the click of a closing Laguiole meant that a dinner was officially finished. It was also offered by a father to his son upon his coming of age.
This is a photo of the replacement knife I obtained from Lee Valley tools - the one I lost was just like this, but made with bone rather than rosewood. I'd originally bought it thinking that I would give it to Dylan when the time was right ... now that I'm aware of this knife's tradition, I'm wishing that I'd saved it for Dylan's coming of age!
We spent an hour in this old graveyard, which dates back over a century. Many of the names are those of young children, or teenagers who were part of James Cook's expedition.
The mission church has been turned into a historical interpretive centre.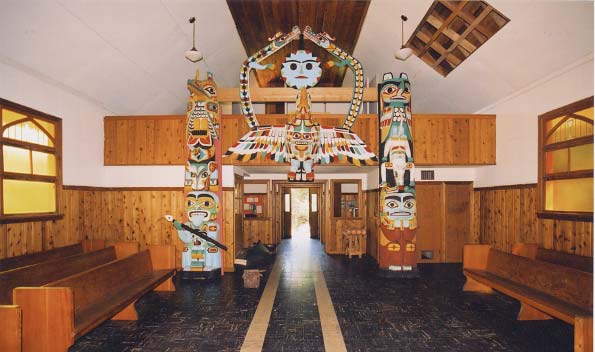 A fellow hiker on this trail had been a commercial fisherman in this area for thirty years, and told us that in the 1960's, he'd seen three totem poles still standing, which dated back at least a century. We weren't able to find out if these were sections of the original, now-vanished totems, or whether they were built for this exhibit.
This is definitely one of the original totems. We were surprised to find it beside a couple of ramshackle houses, decaying in the lush undergrowth. It seems to be the only intact totem pole from a once thriving people.
The lighthouse and surrounding building seem like a separate enclave apart from the village of Yuquot. This photo shows Friendly Cove and the ferry dock.
As we boarded the UChuck III ferry, it was finally time to say goodbye to Nootka. We heard that the lighthouse keepers had been there for over two decades, and were finally retiring this year.
For me personally, the reason for this trip was to share it with my son – a very fine young man.
---
Technical Notes
A few years ago, I saw a barely used Nikon FM2/T for sale, and bought it as a replacement for my aging Olympus OM-1. That camera had served me well at high altitude, and in the cold of winter and expedition climbing. I wanted something similar that would work without batteries, and would work with my "good" lenses. For this trip, the only camera equipment I brought was:
Nikon FM2/T body
Nikon AF/S 17-35 f/2.8 lens
Nikon SB-28 flash
Eight rolls of Fuji Reala film
I was originally going to shoot transparency film, since slides projected on my huge wall screen are a great way to see vacation photos. I chose negative film instead so that I could give a set of prints to Mark and Dylan, and because the FM2/T just doesn't meter as well as my F-100 (I didn't want to spend a lot of time finessing my exposures to make them good enough for transparencies). In retrospect it was a pretty good choice, but a huge processing bill at the end of this trip (together with my sailing trip of a week earlier) made me wish that I had a digital body.
I scanned the prints on my flatbed (Epson Expression) scanner rather than using my film scanner, simply because it's a lot faster than the film scanner (also the software for my Polaroid film scanner is less than wonderful). Everything was scanned on Auto settings. The final scans were much too colour-saturated, so I built a batch PhotoShop action that made the scans a standard size, reduced the saturation by 15%, applied a moderately agressive unsharp mask (radius 0.3; 85%), and saved the results as 40-quality JPEG files.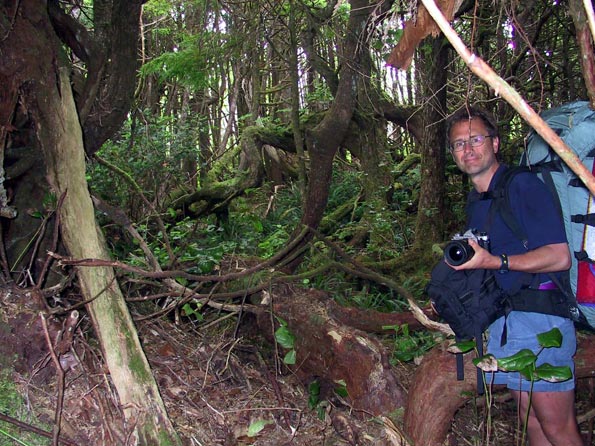 I'd love to receive feedback on this site - whether you found it entertaining or informative, and how it looked on your browser. Just click the "Send us a note" link at the bottom of any page to send me an e-mail - thanks!
---