Nootka Island - Day 6
Thursday August 7, 2002
Thursday morning surprised us a bit by being overcast and a bit cooler than it had been. Still, we were up early, hoping to take the coastal route wherever possible on the way to Maquinna Point (or thereabouts – we weren't too sure where we would camp that night – it depended on finding water).
Going along the coastline seemed promising initially, but it didn't take us long to realize that we'd be taking the forest trails most of the time.
There was a lot to like about the forest trails – the rainforest was an exotic change from Alberta's high-altitude trails.
But the coastline really did seem like an exotic place.
Periodically, we'd find these little pocket beaches. We knew that some of them would have sea caves, but we didn't see any this far north.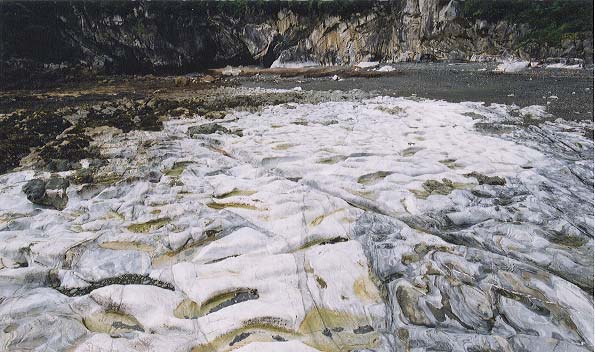 What we did see was more of this white rocky shelf, which was only exposed at low tide.
As you can see from this photograph, the coastal route wasn't really impassable, as long as you kept the tide in mind. We chose to stay on the forest trails though, as the going was fairly easy, and we didn't want to slip on the algae-covered rocks with our packs on.
The forest here was a little bit drier, and the trail was better marked than it had been in the earlier sections.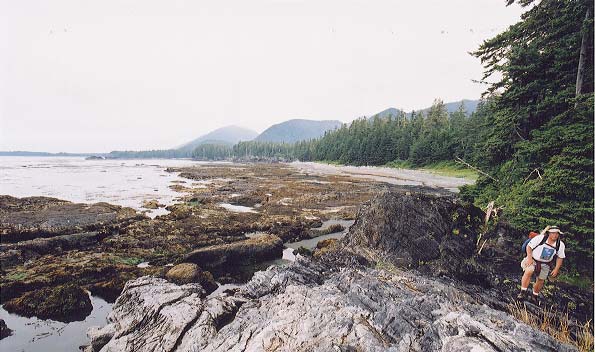 This was a section where we almost made it along the coastal rocks, but couldn't quite do it. If my memory isn't too far off, this was a section where I'd thought we'd be able to make it this way, and had led us along for some time when the "route" rather abruptly ended in an overhanging cliff. There were a couple of places where there were very rough game trails leading up from the rocks that probably led to the main forest trail, but I wasn't sure of that. Although I was tempted to plough through one of them, I decided that the prudent course of action would be to backtrack a bit along the rocks, swallowing a bit of pride as I did so, and take the real trail.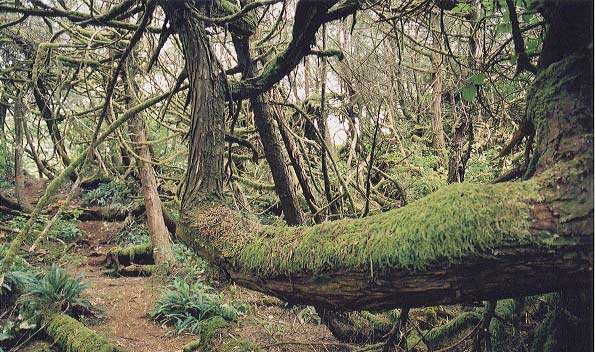 This was a "crest" in the trail, and we stopped for lunch just above this point. Somehow, Dylan ended up leaving his hat here when we went on. The next morning, I ran back along the trail, and retrieved it. Later on, we went took advantage of the low tide to go back along the coastline, and explore the sea caves. To my surprise, it took scant minutes to get back to the pocket beach which was connected to this spot by a short steep trail - If I'd known, I could have retrieved Dylan's hat in a fraction of the time it actually took!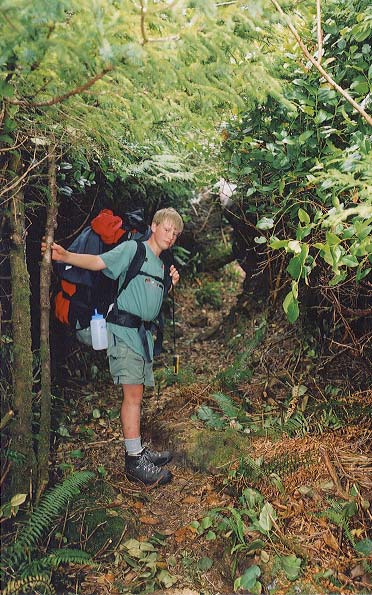 This trail led to a set of sea caves. Steep and overhung with low branches, we wondered just how tough it would be to get back up again when the time came.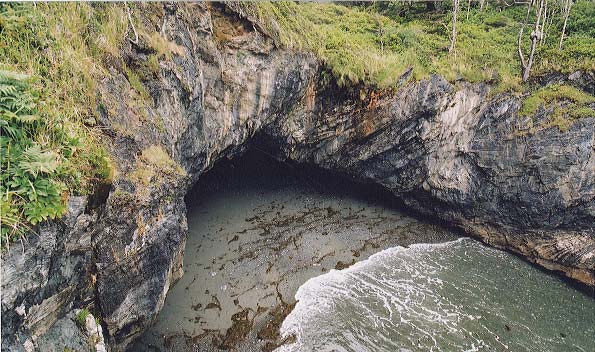 Here's one of the first sea caves we saw.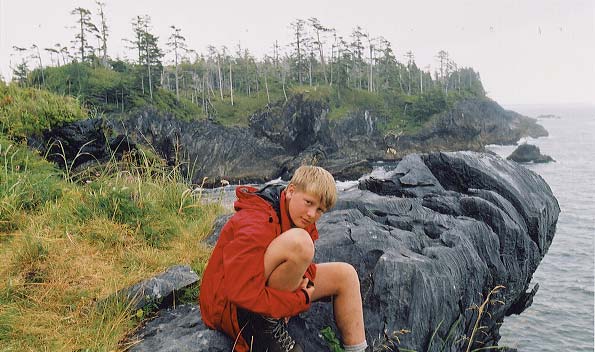 And finally, our goal for the day – Maquina Point. Dylan was feeling decidedly tired at this point, and who could blame him? It was starting to drizzle a bit, but that didn't stop us from enjoying our lunch overlooking the water. Out to sea, there was a cluster of small fishing boats. We didn't really know what they were doing – we could have probably talked to them with the VHF marine-frequency radio Mark had bought, but we settled for guessing that they were taking advantage of the opening of the salmon fishing season.
After rejecting a couple of potential camp sites, the day was getting distinctly long in the tooth when we made our way down a steep trail to a little cove where we hoped to find a small fresh water stream.
It was definitely the end to a long day for all of us...
Particularly Mark, who was carrying the heaviest pack.
---