Nootka Island - Day 1
Saturday August 2, 2002
It was raining torrentially when we drove in to Gold River. All the previous week, we'd been sailing through the Gulf Islands under cloudless skies, and we felt that our weather luck had abruptly worn out! The friendly young folks at the tourist information centre told us that the weather around there was "just like that". The way they said it, you just knew that they were already planning to move away when they were old enough - anywhere where the forecast wasn't for rain every day.
By the time we'd driven twenty minutes to the Government Dock, the rain wasn't torrential anymore, but we were pretty sure that Air Nootka wouldn't be flying in this kind of weather. When we walked into their small office though, we were greeted with a smile, and the assurance that of course we'd still be flying into Nootka Island - that if they let a little rain stop them, they'd never fly. And anyway, their pilot had radioed to say that the weather on Nootka Island was just fine - it cleared up west of Muchalat Inlet.
We hastily pulled our packs out of the car, and piled them up under the wing of a DeHavilland Beaver. A few minutes later, the car was parked, we had a pile of luggage, and we were all hoping that whatever it was we'd forgotten, it wasn't too important. There were three of us:
John Heerema - me, a fairly experienced hiker and climber, but new to West Coast hiking. In my "other life" I have a consulting practice which focuses on software project management and design.
Dylan Heerema - my fourteen year old son. Dylan is a mountain biker, but has never backpacked before. He's excited and nervous about this trip, and has read everything there is to read about the Nootka Island "trail".
Mark Heerema - my cousin who grew up three blocks away from me, and now works as an RF engineer near San Fransisco. His wife is expecting a new baby, but she isn't due until a week after we get back. We're all hoping the baby isn't early.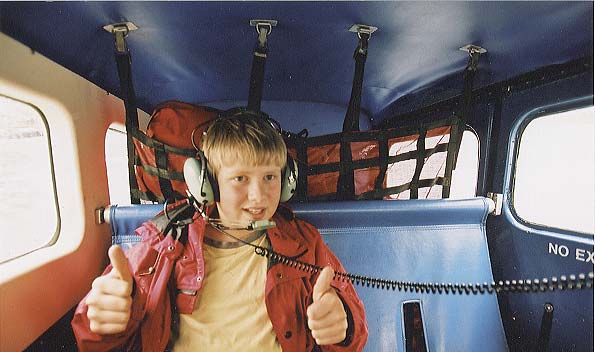 We piled into the Beaver, and a few minutes later we were airborne. Dylan was a bit nervous about being on a small plane, but gave me an enthusiastic "thumbs-up". The view through the plane's windows was ... ummm ... damp.
As promised though, the sky turned blue as we flew along the coast of Nootka Island. By the time we landed at Louis Lagoon, the northmost part of our trip, the weather was beautiful. We bid goodbye to our pilot, and waded to shore with our packs (we'd been warned that the landing would be wet, so we were wearing water shoes instead of our hiking boots, but in reality our pilot brought us so close to shore that we barely got our feet wet).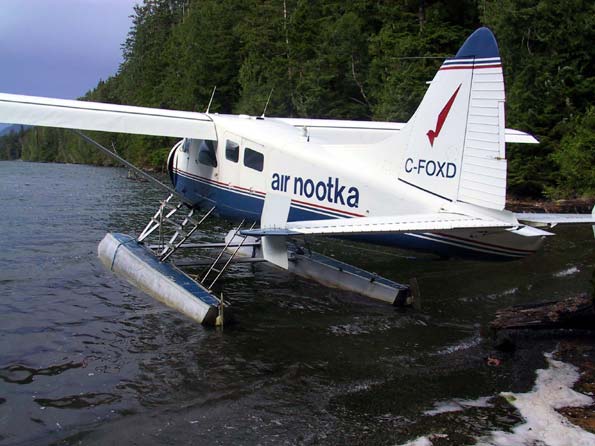 Now it was time to put our hiking boots on, and shoulder those packs. Speaking of packs, our packs ended up weighing in at about:
Dylan - 35 pounds
Mark - 55 pounds
John - 50 pounds plus camera equipment
Now add water to those weights - 3 litres of water for me, and a couple litres for Dylan and Mark (add 2.2 pounds per litre - metric is a lot easier, but pounds make for a larger number).
We immediately plunged into a mature rain forest. Although we'd been warned to expect the worst sort of bush-whacking, we spent an enjoyable hour gong through a well marked, but rough trail to "Third beach".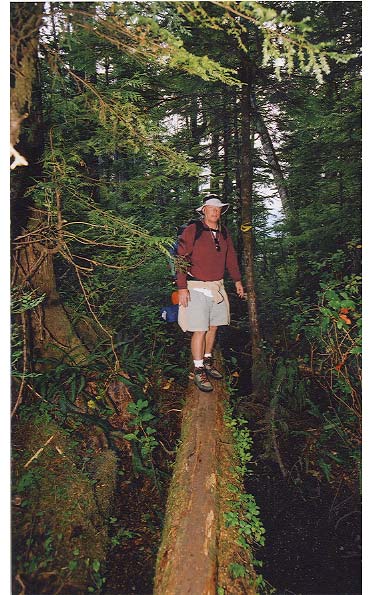 I really enjoyed this trail. It was like figuring out a puzzle: should I walk along this log, step to the other log, then onto that branch and so to the next part, or should I take this other path? The object of the "game" for me was not to get my feet muddy, and to step as efficiently as possible. That meant trying not to climb something, only to descend a few feet later, but to stay at the same height as I walked along. To my surprise, I was able to negotiate the "puzzle" quite successfully. It really was like there was a "correct solution" to each of the obstacles on the trail.
As we neared our destination for the night, "Third Beach", our trail met up with a freshwater stream.
Taking our packs off, we walked barefoot along a beautiful sandy beach, and relaxed in the warm evening sun. For the first time it hit me - this was going to be a wonderful trip!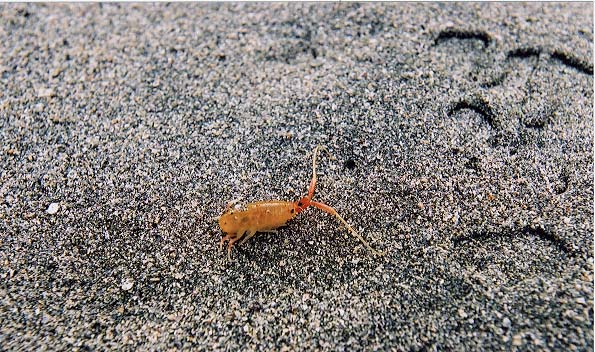 These "Sand Hoppers" are perhaps an inch long, and can be found in the sand in the inter-tidal zone.
---