Nootka Island - Day 3
Monday August 4, 2002
On Monday, we walked to Calvin Falls. The weather was sunny, but not too hot - just perfect for hiking with our heavy packs, but it was a surprisingly long haul!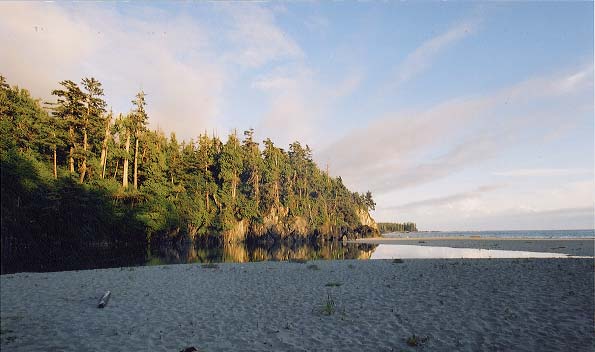 Although we got up early so that we could take advantage of a very low morning tide, we quickly realized that we wouldn't be able to travel along the beach for the first section. A brief exploration of the headlands was interesting, but the slippery rocks and large pools of seawater were just too dangerous with our heavy packs, so we opted to take the forest trail instead.
The first two sections through the forest were like the trail from Louie Lagoon. I wore my "bushwhacking" pants, and found that I got through without any real bruises or scratches.
Then we got to a part where I wondered about trying the beach, but our group consensus was to try another forest segment. This part was much rougher, and we ended up following a rough trail around in a big circle! We ended up going back to the entrance to the trail, and doing the beach route after all!
I had taken my bushwhacking pants off, and developed a fine set of scratches on this "trail" segment. Dylan ended up with a nasty looking scrape that circled his knee and thigh - I suspect that it will end up scarring a wee bit.
The beach walk was great – a "night and day" comparison with what we'd just done.
We walked on rocky headlands, where we saw an astonishing variety of marine life - crabs scuttling out of our way as we walked, little fish in the shallow tidal pools, strands of kelp and other seaweed along the tide lines, and an interesting variety of shells.
We made terrific time going along the coastline, and had lunch at Bajo Point - the site of an old aboriginal settlement.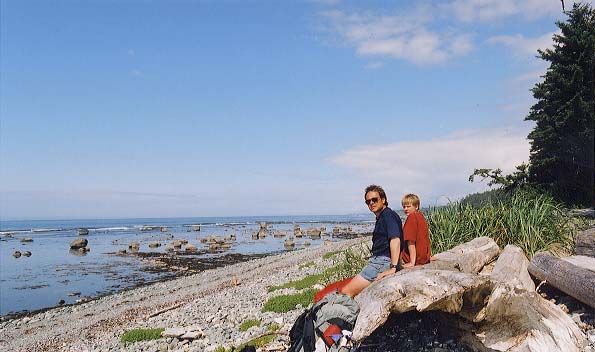 We only stopped for lunch at Bajo Point, although we wished that the tide were low enough for us to explore the long reef which extended past the point. Later on in the trip, we talked to another group of hikers, who reported that they'd stayed in the old settlement. The only evidence they could find of a once thriving village, was a few whale bones. There was no fresh water at Bajo Point, making me wonder what the villagers of the past had done for water..
Each of us had packed our own lunches for this trip (we shared breakfasts and suppers), but we'd bought several blocks of cheese on the way up from Victoria. We needed to eat the cheese before it went bad, so we shared it with every meal. Cheese became a running joke, since we'd brought along rather a lot of it. By this point in the trip we'd gone through the Cheddar and the Edam, and were starting to work on Gouda. The no-holes Swiss, and the Old Gouda were still in reserve for days yet to come, but we were enjoying our cheesy calories while we still could.
The tide was low as we continued our journey.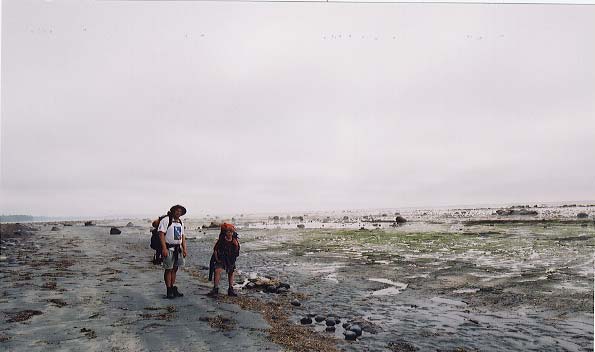 Once past Bajo Point, the low tide revealed a rocky plateau that we could walk on almost as readily as on a sidewalk. Scurrying crabs accompanied our footfalls along the little waterways which wind and wave had delicately carved into the rocky shelf.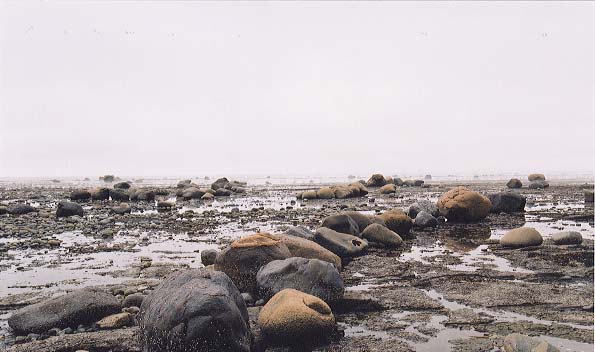 As we walked along the waterfront, we kept seeing places where the action of wind and wave had arranged the rocks into a single layer of rocks which neatly fit into each other, as well as places where the rocks had been arranged into rows. This picture shows rocks which were arranged into semi-circular rows.
If your browser is able to play back movies, here is a panoramic picture from Mark's digital camera. Click and drag with your mouse to look around the panorama (works best with QuickTime).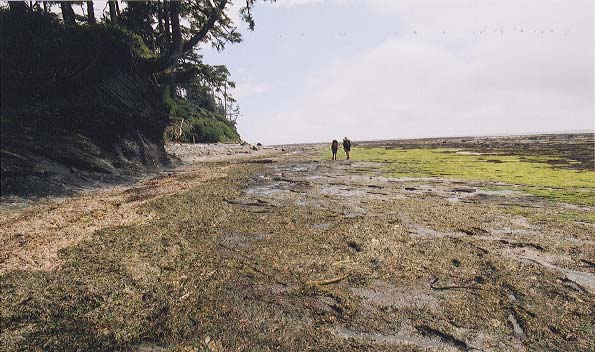 The intertidal zone was enormous, and we could have spent the entire day just wandering back and forth along the rocky shelf.
We were starting to feel our packs, though, so we kept up a brisk pace.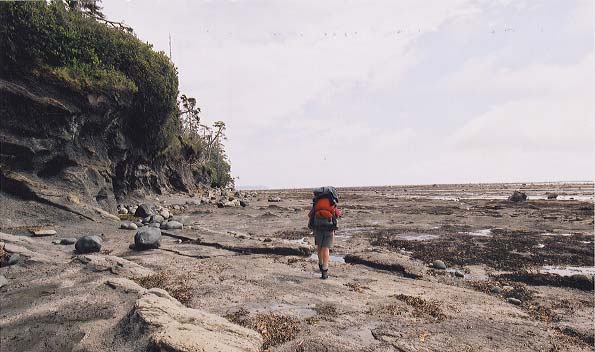 I was getting adept at taking photographs as I was walking along. What I'd do would be to pre-focus the camera, and set the exposure while I was walking along. Then I'd stop for a second or two, put the camera to my eye, take a slow breath to steady things a bit, and squeeze the trigger. I'd put the camera back in my chest back while I continued to walk. It wasn't much beyond this point that I got a real surprise. The footing had been pretty steady as I'd walked from rock to rock, and suddenly I walked across a section of rock which was covered by slippery, gooey algae. In a moment, I was flat on my back!
If I hadn't been wearing a pack, I'd have been seriously hurt, but as it was, the pack completely cushioned the blow, except for a crack to my elbow, and a sudden deflation of my ego.
My companions were greatly amused to see my attempts to right myself. With no way to get a foothold on the slippery stuff, I felt like an overturned turtle. Eventually my Eldest Son and cousin were able to stop laughing long enough to give me a hand up...
As we went further south, we started to see more of these little "pocket beaches".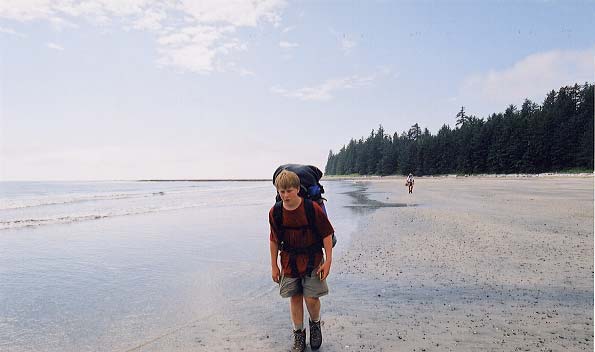 We'd been gauging the distance to Calvin Falls using Dylan's GPS for some time now. By the time we got close, we were all feeling a bit tired.
Looking down from the top of Calvin Falls, toward the ocean.
By the time we got to Calvin Falls, we were more than ready for a swim in the surprisingly warm fresh water, and all found a good use for the shampoo I'd brought along. A calm pool at the top of the waterfall was our source of fresh water. To get to it, we walked up the side of the falls with the assistance of a rope which had been left behind by an earlier hiking party.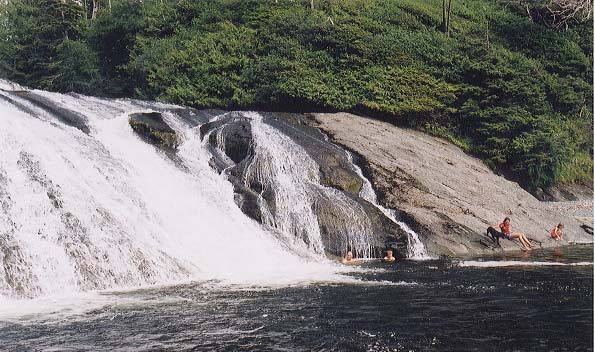 We weren't the only group enjoying the falls. In this photograph you can see Dylan and Mark swimming. Behind them you can see two girls and a dog, who were also hiking the Nootka trail, along with their (brave) parents. The youngest girl was eight years old, and was enjoying the hike - even carrying a little pack!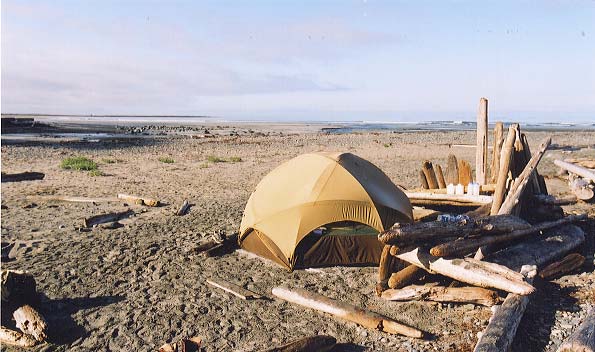 We also took advantage of a windbreak which previous hikers had made out of driftwood.
The falls were pretty inviting, but Dylan had been reading about the trail, and advised us that we really should keep going, so that we'd have enough time to get through the headlands to come. A little reluctantly, we packed up camp the next morning, and headed off on the next leg.
---