Taking pictures...
Photography has been a personal passion for over thirty years. I've enjoyed photographing people and places around the world, and from time to time, I teach Fine Arts (digital media) at the University of Calgary.
My personal specialties are:
Portraits, both studio and candid
Life photography
Landscapes
Airborne photography
Image enhancement
The magic of capturing a moment in time has fascinated me for a long time. These days, my house has photos on the walls everywhere as I keep learning more and more about the science, craft, and art of photography. As my focus has drifted towards prints which are up to several feet on a side, it's becoming harder and harder to find wall space for them!
My Dad introduced me to photography around grade 5, with the gift of a folding camera. It took 120 roll film, which made 6 cm x 9 cm negatives. I took it with us to Hawaii on a family vacation, and shot off several rolls of film while we were watching "The Kodak Color Show", which prominently featured hula dancing. A twin-lens reflex complemented it in Grade 7, and I started doing my own darkroom work.

The good thing about developing film, was that you only needed a seriously dark place for a few minutes, while you loaded the tanks.
When I was an undergraduate, I did a lot of camera research, and decided on an Olympus OM-1 single-lens reflex system, thinking that it was technically the best designed system around, 'cause it was small and light. I took that camera with me on a lot of outdoor adventures, and it served me well: I traveled to the top of the highest mountain peaks in North and South America. My favorite lenses were the 20mm wide angle, and 135mm macro lens with auto extension zoom bellows tube & ring flash. Super sharp, and there's still nothing quite like them in my current equipment lineup.
Then my brother and I started to take photos together. We both got licensed as professional photographers, and bought medium format systems (he got this amazing deal on Mamiya 645 equipment while he was at school in Waterloo), and we started shooting weddings. We'd show up for a shoot with several suitcases worth of heavy equipment. I was tempted to go pro as a career, but thought that I'd start to hate taking wedding and baby pictures. In retrospect, I think I was wrong, and I should have gone ahead and shot what I wanted (probably landscape and life photography) - the money would have followed.
(Personal Note: you know that book "Do What You Love - the Money Will Follow"? Actually I've never read it, but I wish I'd read something like it at the time - in my own life, every single person who's just done what they really love, has ended up being successfully both personally and financially. That's not the advice I got from well-meaning folks at the time, but it would have been good advice for me to heed.)
A 4x5 view camera was my "good" camera for many years. My good friend Billy and I bought these beautiful wooden folding field cameras (his was nicer: A Zone VI), and shot landscapes. We did our own darkroom work, and started showing off our work on our living room walls. There's a great discipline to shooting with a view camera, and there's nothing in 35mm photography that really compares to the control you get with swings and tilts. Even when I got a fancier small format system, I kept thinking of my 4x5 system as my "good camera". I guess that I still do, although shooting digital is so much easier, that it feels like a lot of work to load film holders and take just one exposure.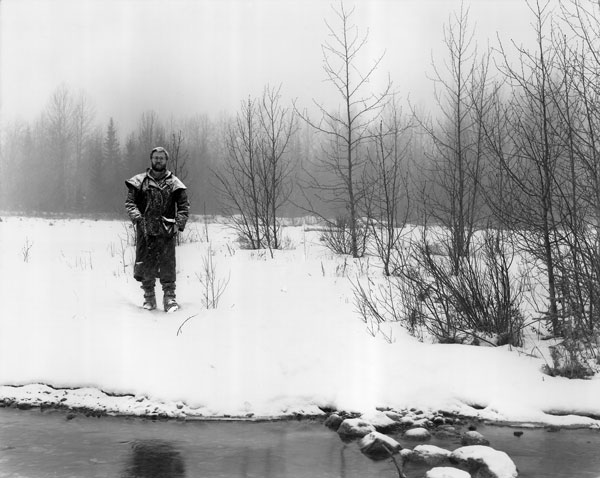 Eventually in 1998, I discovered that it was getting harder to take decent pictures of my kids while they were running around. Plus I wanted lenses with a wider aperture (smaller depth of field, and easier focusing). So I finally gave in and bought a modern camera system, and a slide scanner. What a difference! I decided to never buy cheap glass again.
Fast forward to 2006. With a month-long trip to Buenos Aires coming up, and the announcement of the Nikon D200, I finally took the plunge and went digital for my 35mm photography. Was it worth while? It sure simplifies the work flow, and most things are a a LOT easier to do with digital capture.
Photographic tools
The tools I use for photography, start with good lenses. In the film world, your lens is all that really matters — the camera is just a lightproof box to hold the lens and film together.
My small-format camera bodies were originally Olympus (compact, and great in cold weather), but now are mostly Nikons - a choice I made in the days of film, when Nikon had the better flash system, and was better for eyeglass wearers.
Right after that, Canon took a commanding technical lead in the world of 35mm photography, but lately Nikon has surprised everyone by making a comeback to the world of serious digital photography.
Most of my work these days is done with a Nikon D800E, or a Fuji X-100. Most of my prints are big - up to ten feet wide, and I like to have enough detail in them that people can walk right up to a print, and see more and more detail as they get close up. To do that, I need more resolution than a single frame can provide. As a result, most of my commercial images are stitched together from many captures.
My large-format work is done using a beautiful wooden 4x5 field camera and am amazing Rodenstock lens. Post processing is in Photoshop and Lightroom. A huge wide-format printer took four sturdy neighbours to muscle into the basement.
I'm indebted to the late Bruce Fraser for his excellent Real-World Photoshop (I've purchased three different editions of this book, and read them all cover to cover), and for his book on sharpening (the last book he wrote before succumbing to liver cancer on my birthday in 2008).